Women in Charge (and in Cheese)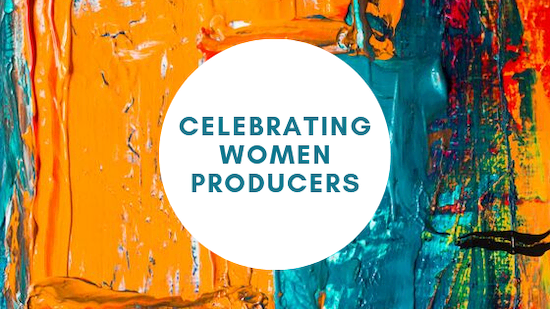 September 24, 2019 • Category: cheese, cheesemakers, marcona almonds, mostarda, women
We are here to give praise to the women of cheese (and beyond), and the women producers with whom we work. Although women have been farming, making cheese, and cooking throughout history, female food entrepreneurs in the cheese epicenters of Italy, Portugal, and Spain are still fairly rare, unfortunately. Although many women are employed by dairies and are making cheese every day, the master cheesemakers and business owners in these regions are typically men. But we do work with several women who have developed their own businesses and cheeses that we cherish, and we are telling their stories today. We hope that in the future, more women are empowered to start their own businesses and dairies. We will continue to support those that do so that the landscape keeps changing over time and becomes more equal. We have a long way to go but if these incredible women are any indication, the future is bright!
Fátima Navarro grew up fascinated by cheese. Her family raised animals, and her father would make cheeses from sheep and goats' milk with Fátima by his side, asking questions and taking note of his every move. When he eventually created a cheese cooperative with a group of local farmers, she decided it was time to start formally working in cheese. She helped in every facet of the business, learning as she went, and eventually became an apprentice to the master cheesemaker.
She has now become a head cheesemaker herself and has over 24 years of experience in making artisan cheese. Her masterpiece, La Dama Sagrada®, is an aged raw goat cheese that highlights sweet and grassy flavors and has a bright, tangy finish, with crystal formation throughout. The name, meaning "Sacred Dame," is a tribute to the industrious woman who created the cheese.
Maria Rosso married into the Rosso family, which has been making and selling cheese in the Elvo Valley of Piemonte since 1894. Her husband's great grandmother Rosa was the first one in the family to make, age, and sell cow's milk cheeses, which were transported by mule from mountain pasture to cellar for aging. Maria was always attracted to the family's longstanding cheesemaking tradition, but did not start making cheese herself until several years after she and Enrico married.
Opportunity knocked when a cheesemaker left the Rosso dairy, and she made the decision to change careers, supplementing what she learned at the dairy with formal coursework. The fact that one could make vastly different cheeses from the same raw material fascinated her. She has now been head cheesemaker for over 20 years, making cheese with milk from Pezzata Rossa cows, a local Biellese breed that graze in mountain pastures for 4 to 5 months of the year. The cheese she enjoys making most is Margot, a semisoft cow's milk cheese made with blonde ale, because it fills the air with an incredible aroma.
The cheese that gives her most satisfaction on a technical level is Castelrosso, a medieval style of cheese made using lactic fermentation, the multitude of microbes on its rind ripening it from the outside in, creating a truly original texture and flavor. And finally, her favorite cheese to eat is the Toma Piemontese DOP Riserva (pictured at right), a rich and pliable cheese aged for 5 months that is at once earthy, complex, vegetal, and bright.
Ana Isabel Rosado came into the cheese world through marriage, as her husband Pedro and his family have been making cheese and raising goats for generations. He and his sister are behind another of our goat cheeses, Montealva, and Ana Isabel's love of cheesemaking blossomed as she helped them out in the dairy. After deciding to turn to cheesemaking full time, she attended school in Córdoba, eventually earning the title of maestra quesera, or master cheesemaker. She had a certain affinity for blue cheeses, and she always hoped to create her own, despite the many challenges.
Andalucía is not known as a blue cheese producing region, so she headed north to the Picos de Europa, the hub of distinctive traditional blues like Cabrales and Valdeón. Once she made the decision to bring her knowledge back home and make blue cheese in Andalucía, she had to recreate the specific environment of the natural caves in Asturias to age her cheese. It was a high risk proposition. She started with cow's milk, but changed to goat's milk, specifically Payoya goat's milk, a local heritage breed that was resuscitated by local farmers, and with that, she soon found her groove.
Her pioneering cheese is relatively mild and doesn't have the burn you sometimes get with this style of cheese, so it is approachable even for the slightly timid. It's aged for 2 to 3 months and rubbed with olive oil throughout its aging. The buttery, creamy paste coats the mouth and lingers with a piquant finish. Ana Isabel has pulled off her whole operation with great aplomb and we look forward to seeing what else this ambitious woman will achieve.
Laura and Tanya Amor, known around here as the "Almond Sisters," own the nut business established by their father Juan in 1993. Tragically, he died several years ago, and the sisters stepped up and took over operations of the family business. They both had many years of experience at the company and had grown up helping out wherever they could. Starting out, they learned all aspects of the business, from frying almonds to loading vans. They now are the bosses, and have helped the company to grow. Their focus is the highest quality gourmet nuts, including that most prized of all the almonds, the Marcona. They are always willing to work with us to get creative and try new things. These collaborations have led to products like Moka Pecans, with coffee, chocolate, and cocoa, which we will debut this fall. These women are like family to us and we're honored to be their partner.
Paola Calciolari always had a love and appreciation of the food from her hometown of Mantova. However, it took becoming a pharmacist to realize that her true passion lay in the culinary arts. So, she quit her job and opened up a culinary school, which then blossomed into a food business. She began producing typical compotes, mostardas, and jellies using local produce typical of her region of Lombardia.
At the time, she started doing this because no one else in Mantova was manufacturing products like these for retail sale, and she wanted to share this important part of her city's history and culinary legacy with others. She sources fresh produce like Amarena cherries and white watermelon and has perfected her concoctions, sometimes using recipes from her grandmother.
Her specialty is Mostarda Mantovana, a condiment made with candied fruit and potent mustard extract. The fruit is candied in a mix of sugar and water for several days, and the fruit releases liquid and absorbs the sugar, concentrating the flavors. Drops of mustard essence, so potent that they are only available from a pharmacy (and not in the U.S. at all), are added, creating a hot-sweet sensation that pairs particularly well with cheese and charcuterie. We recently revamped the packaging on all of her products and will soon debut new flavors, including Orange & Chocolate Mostarda, Pink Grapefruit Mostarda, and Pear Rosemary Compote.
According to a 2014 study by the European Commission, Portugal has the highest proportion of female farmers (42%), while Ireland has the lowest (6%).